What Web 3 Can Mean for Social Media Managers
Web 2.0 and social media were cutting edge in 2009.   It gave me the launchpad to start a business, allowing me to monetize the flexible work I love.  As technology continues to evolve, Web 3 is bringing new opportunities and amazing challenges to the next wave of entrepreneurs.
More than a decade later, the Hay There Social Media mission has changed – we empower moms to build their own social media businesses so they can help small businesses market themselves digitally.  We are thrilled to see the organic alignment between the work of social media managers in Web 2.0 and Web 3.
We are here to connect the dots faster for the individuals we train so they can capitalize on the opportunities of Web 3 for women and NFTs for moms, and not get left behind.
How Web 2.0 Made Me a Social Media Manager
It was 2009 and I was ready to pave my own path as a self-employed professional.  I graduated from college in 2005 with a focus on marketing and my experience in corporate America was in sales.  Throughout my life, I had no exposure to entrepreneurs and the only definition of a small business owner I could come up with was a bakery or a doctor in private practice.  However, somewhere inside of me, I felt like I had been collecting dots and now was the time to "connect" them.
Facebook was something I had started using as a college kid and it seems not too long after I graduated, small businesses (you know — like the local bakeries and doctors' offices) were starting to need answers about what Facebook was and how it and sites like Yelp could work for them.  I felt a calling inside that I could help them learn this info!  But I was still unsure how to move forward and was unsure if I was "expert enough."
I KNEW what Facebook was and I learned about blogging and used Twitter daily.  I started going to as many meet-ups as I could; I started a blog and jumped into making YouTube videos myself with one objective: to learn.  To learn enough to have SOME answers that small businesses would be willing to pay me for.  Like this one about Yelp from 2011 with 3.5K views (yes…I am actually wearing a Yelp wristband).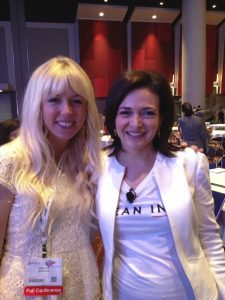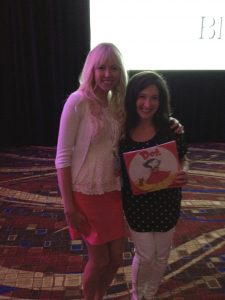 But, with the birth of social media coinciding with the start of my entrepreneurial life, I knew I had to jump in.  I will never forget the electricity I felt when I learned about social networks and how to put this new form of media to use.   As Lin Manuel-Miranda sings in Hamilton, "I'm not throwing away my shot."  That is EXACTLY how I felt when businesses were looking for people to help them navigate the unchartered waters of social media marketing.  This was MY SHOT.
How I Built a Social Media Marketing Business
As a humble brag, you can say I was a Web 2.0 pioneer.  I built my entire flourishing, self-employed business around social media marketing and this new frontier of marketing through social networks.  I'll never forget when we innovated a Twitter-focused street team for Black Friday that we dubbed a "TweetTeam" as part of a series of projects with Detroit's NBC affiliate, WDIV/Local4.
I built my remote team of all women – all moms before I was a mom – and we figured out how to bring our collective expertise (journalism and public relations) to businesses that needed social media marketing help to thrive in this new world.  All boats rise with the tides and our team was a living, breathing example of it.
How We Help Moms Become Social Media Managers
Fast forward to 2019.  I'm proud to share that after a decade as a boutique social media agency working with countless clients – many that we retained for YEARS – we put our experience in a box and productized.  The team at Hay There and I knew this was our way to make an impact on the world by training other moms how to do what we do: social media marketing.
We train moms how to be freelance social media managers so they too, can work as social media professionals whether with 1 client, 5 clients, by themselves or by creating their own boutique agency as I did.  Social media and Web 2.0 are the opportunities I took to build my entrepreneurial journey and today, I have put that work life integration recipe in a box that women can follow for a thriving business that's truly their own.
What Does Web 3 Mean for Social Media Managers? 
One of the most common themes we hear about early Web 3 is that community is KEY.  Not the kind of "community" that comes from a large base of anonymous followers that we saw in Web 2.0, but rather an authentic population of people that truly connect around an idea, practice or mission.
Despite the state of our world today, people do recognize that Web 2.0 diluted what it meant to be a real person; therefore, in Web 3, communities are quicker to think for themselves and not blindly follow influencers or companies that may manufacture ideas and promote persuasions.   A key responsibility of a social media manager is to be a community builder and a community manager.
Being an online voice and ambassador for a business requires the ability to responsibly connect real people in an online community.   This is likely one of the most important skills a social media manager can bring to Web 3.
Furthermore, Web 3 promises transparency.  From contracts to transactions to advertising and monetization, brands and consumers will be able to leverage new methods of conducting business enabled by the blockchain ledger.  While this is still an undeveloped territory, it is a familiar environment to those who have worked in social media because it is, in a way, a better way of doing what social media already set out to do.
From social commerce to Yelp reviews, social media allowed consumers and brands to have conversations directly and conduct business online faster than we ever could with just phone numbers and email addresses.
In short, the transparency of Web 3 will only allow these exchanges to happen better, easier and with more clarity and integrity.  Familiarity with how things work today with Web 2 will only make the learning curve shorter with Web 3 and social media managers will be primed to help their small business clients succeed.
This all FEELS so familiar. Additionally, I'm beyond excited for this new evolution of the web for social media managers for these 3 reasons:
1. Opportunity is knocking.  Right now.
I remember hearing big things happen every 10 years.  Well, the universe has timed this one right and here we are.   10 years after I personally went into social media marketing, the web is evolving into another version that is ripe for the learning.  It's an incredible feeling to apply past learnings to a new frontier with the hopes one can get there stronger because of the past experience you can apply.
2. The TIMING is so right for work life integration.
Work life balance models of yesteryear are broken.  Even though we worked from home since day 1 (2009) at Hay There, we were NOT immune to the feelings of imposter syndrome from not having a fancy physical agency office or from being "moms" that may work with an occasional dog bark or "worst case" baby cry in the background compromising our appearance of commitment, seriousness and professionalism to prospective and current clients.
Web 3 is "coming online" at a time when work from home is at a global high and awareness of workers as human beings – with caregiving responsibilities – is on the forefront of new jobs and the evolution of the WAY we work.  Web 3 is going to continue to support that and shorten the path of resistance that we experienced even with Web 2.0.
3. Social media managers – particularly freelance, independent social media managers are PRIME for learning about this new technology.
There is a natural synergy and direct connection between the work one does as a social media professional creating content and creating COMMUNITY. The advice, knowledge and expertise around Web 3 that you can begin to develop and share with small businesses will be as valuable as the advice, knowledge and expertise around Web 2 that you have been sharing for a decade.
In my opinion, the experience of a social media manager will enable them to THRIVE professionally in Web 3.
Web 3 for Women Means Opportunity
Not only will Web 3 mean an abundance of opportunity for social media managers, the evolution of web 3 is driving opportunities for women – but we have to step up and take them.
One way we are helping women – particularly moms – claim these opportunities faster is through the ongoing education we offer our community.  We are proud to have Heather Parady, the co-host of the globally recognized podcast, Web 3 and NFTs  for Newbies, speak to our community of Hay There INsiders about Web 3 for women and ways that NFTs have changed lives and can mean so many things for the independent consultants of tomorrow (which is practically today).
Be sure to check out this informative podcast hosted by Web 3 and NFT subject matter experts, Heather Parady and Rich Cardona, as they breakdown so many concepts from this new Web 3 space.
**UPDATE** While the Web3 and NFTs for Newbies podcast is no longer active, Heather Parady has started the Community Builders in Web3 podcast and we highly recommend checking it out!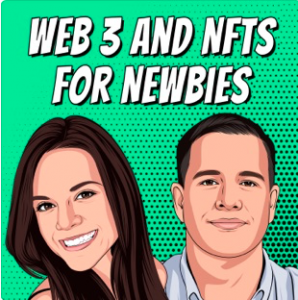 Remember, social media marketing is a learnable thing.  Our team of moms will continue to build from the foundation that has been 10+ years in the making to ensure we do our part to help other mompreneurs not throw away their shot.
As they say, if you want to go fast, go alone; if you want to go far, go together.   If you want to learn more about Web 3, NFTs for moms, or the Hay There INsiders training and community, get in touch with us today.
Title:
What Web 3 Can Mean for Social Media Managers
Mentions:
heather parady, nfts, nfts for moms, nfts for women, nfts4newbies podcast, Social Media Manager, web3 for moms, women in web3
Last Updated:
May 31, 2022