When it comes to choosing your career path, the options can be overwhelming.
What is the Hay There difference? We give women looking for "more" our proven recipe to start their own social media freelance business using the right ingredients:
Resources & Skills: What services to offer & how to deliver them
Connections & Guidance: How to get & keep clients
Community & Access: The support to constantly achieve more
Every INsider is unique. The specific amount of each ingredient you add to reach your personal and professional goals is completely up to you!
Our team of experts offer live classes year round so you can onboard at any time, and you can attend as many times as you like to learn and perfect your social media skills!
Our robust collection of training resources is a huge time saver, especially when you have lingering questions about a certain topic or tool that you would otherwise be researching independently as you build your portfolio.
If you need more exposure to potential clients, we have the connections as part of our membership program!
Access our thriving community of world class experts, and women who have chosen this path to living their best lives just like you!
How We Started
In 2010, our founder, Emily A. Hay put her entrepreneurial spirit to work leveraging her background in sales and marketing & became a self-employed social media marketer for small to medium size businesses. She built a successful boutique agency offering jobs to women allowing them to use their professional talents to work while embracing the mom life they wanted.
In 2019, after seeing countless moms struggle with return-to-work options, the idea struck us to bring our recipe for work-life balance to women everywhere. So we made it our mission to teach the exact skills and support we've used for over a decade to build a successful social media business to any mom, anytime, anywhere.
If you want to learn a skill, isn't it best to learn it from someone who has done it and has a proven track record to show for it? Our social media manager training course is rooted in some serious experience; let us share!
Hay There Social Media was started by Emily A. Hay in 2010 and grew into a successful social media marketing agency with an all-women, work-from-home team. For over a decade, the company has helped small to medium-sized businesses create a digital footprint and build meaningful connections with their target audiences.
If you'd like to learn more about your opportunities or speak with one of our experts, give Hay There Social Media a call today. We'd love to hear your story and start helping out!
Clients
Here are some of the clients Hay There Social Media has worked with over the years.
Testimonials
Andrew McCuiston
President, Goldfish Swim School
We are happy to work with Emily. She and her team have helped Goldfish Swim School in ways we cannot get it done. Thank you!
Derek Grimaldi
General Manager
The H Hotel, A Dolce Hotel & Resort, Wyndham Hotel Group
Emily's enthusiasm, energy and commitment to collaboration have played an integral role in the design, launch and growth of our social media channels. Her leadership and support, along with that of her team have made a tremendous impact on all facets of our business. Her commitment to customer service and to our success has been unwavering during the two years we have worked with her.
Alex Faigel
Co-Founder and CEO
Dr. Dental
Rooted as a family business, we value partnerships, trust and dependability deeply. Emily and the Hay There Social Media team have been an extended part of our team for years. As a business that relies on word-of-mouth and patient referrals, knowing that Emily's team is responding to our reviews and addressing issues—working in tandem with our team on the ground—gives me peace of mind that all patients feel heard and that our staff can constantly work to improve customer service. They are so great with all of this work. We consider them to be among the heroes who get their job done exceptionally and we thank them.
R. Trent Thompson
Senior Director Brand and Strategic Communications
The Children's Center
We have worked with Hay There Social Media since 2014.  The team handles our complex social media communications strategy that touches numerous internal and external constituents and crosses multiple social platforms.  From writing social posts to balancing time-sensitive communications, working with Hay There has always felt like an extension of an in-house team and their process operates like a well-oiled machine.  We believe in the social media strategy and are grateful for the partnership.
Stephanie Azzarone
President & CEO
Child's Play Communications
Emily has been our social media expert on projects with global brands like Teletubbies as well as small, start-up clients.  She is excellent with client management and we rely on her team's expertise and thoroughness, in a seamless and professional manner.
Amy Jo Martin
New York Times Bestselling Author,
Speaker, CEO/Founder and Podcast Host
Emily is constantly challenging herself and she does the hard work! I've had the chance to witness Emily's style in the Renegade Brand Bootcamp and she has that blend of big picture thinking with the important details which is very unique these days.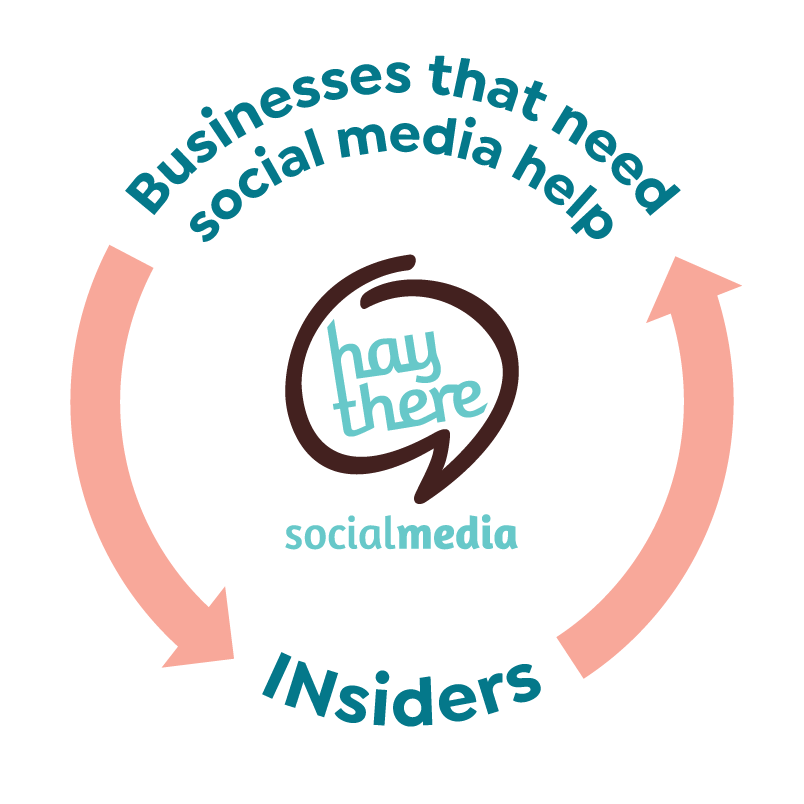 Today, Hay There Social Media is building an ecosystem of expertly trained social media managers (known as "INsiders") and the businesses who need social media help.