It's your turn to get...
CREDIBILITY
At Hay There, we give you a proven way to leverage your unique talents and enhance your professional skills that will allow you to skip years of building from scratch alone. We teach you best practices we've used for over a decade to deliver winning client work so you can build trust with clients quickly. Reputation is everything; let us put ours to work for you.
COMMUNITY
As they say, if you want to go fast, go alone; if you want to go far, go together. You'll build confidence around your new skill set by engaging with our team of experts, and producing quality portfolio work essential to achieving your goals. Day 1, we connect you with a unique, supportive community of like-minded women going farther together.
CONNECTION
Our Core Training is a mixture of real-life learning, application and collaboration. The concepts we cover in the Hay There Core Training were thoughtfully designed to prepare you to connect and close prospective client projects with confidence in a matter of weeks. Independent Hay There Social Media Managers have the perk of being connected with prospective client leads.
Marvelle A.

Tampa, FL
Emily and her team at Hay There Social Media are amazing! The course offered is comprehensive and it gave me the tools and confidence to work for myself. Work-life integration is possible! Thank you, Emily and Team.
GET EXCITED! Each piece of this pie is one of the 14 concepts we teach in our Core Training sessions. Whenever you are ready, merge right in! Our course is offered year round. You will gain this information over a 6-week period but are not required to learn these concepts in a specific order. Completion is the key!
You are able to learn the material when it works for you via live Zooms or by watching recordings on-demand. You will also receive access to additional supporting material via our online platform. The list below gives an overview on what we cover by concept.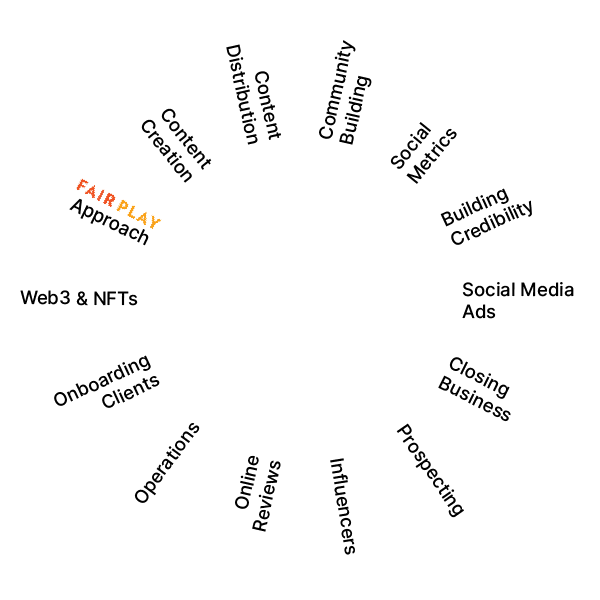 REVIEWS
I credit Hay There for helping me restart my career.
The support. Is. Priceless.
It took my PR resume to the next level.
Become an Independent Hay There Social Media Social Media Manager
Looking for just the essentials of our proven social media manager upskilling program delivered right to your door?
Check out Core Training Lite.
What happens after I am done with the online social media course?
First of all, congratulations! You are now ready to grow your business! The next phase is immersing yourself in our INsiders community, complete with our exclusive vendor discounts on key business tools. Learn more here!