We deliver
CREDIBILITY
At Hay There, we give you a proven way to leverage your unique talents and enhance your professional skills that will allow you to skip years of building from scratch alone. We teach you best practices we've used for over a decade to deliver winning client work so you can build trust with clients quickly. Reputation is everything; let us put ours to work for you.
COMMUNITY
As they say, if you want to go fast, go alone; if you want to go far, go together. You'll build confidence around your new skill set by engaging with our team of experts, and producing quality portfolio work essential to achieving your goals. Day 1, we connect you with a unique, supportive community of like-minded women going farther together.
CONNECTION
Our Core Training is a mixture of real-life learning, application and collaboration. The concepts we cover in the Hay There Core Training were thoughtfully designed to prepare you to connect and close prospective client projects with confidence in a matter of weeks. Independent Hay There Social Media Managers have the perk of being connected with prospective client leads.
INsider Core Training Modules
GET EXCITED! Each piece of this pie is one of the 14 concepts we teach in our Core Training sessions. Whenever you are ready, merge right in! Our course is offered year round. You will gain this information over a 6-week period but are not required to learn these concepts in a specific order. Completion is the key!
You are able to learn the material when it works for you via live Zooms or by watching recordings on-demand. You will also receive access to additional supporting material via our online platform. The list below gives an overview on what we cover by concept.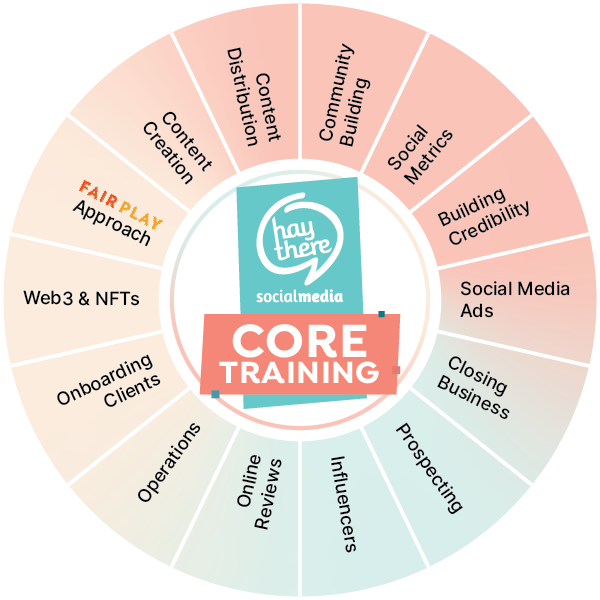 Building Your Credibility
Throughout the program, you will learn how to effectively deliver social media marketing services. In this module, we empower you to put your knowledge to work via a client project portfolio and tout your experience to drive business. A completed portfolio and a Hay There Editor review is required for both graduation, and to be eligible for our client connections.
Closing Business
Often one of the most intimidating stages of the process, practice pitching and closing business with clear deliverables and expectations will be required. It is necessary for you to become comfortable and confident in your approach.
Community Management
You are the ambassador who builds, grows and manages authentic online communities on social media platforms for your clients. Learn the keys to doing it well.
Content Creation
We start with the big work behind every content strategy and planning, then the creation of compelling written, visual and video content before moving onto the publishing. You will create your own work with the support of the Hay There team throughout the course.
Content Distribution
You have written your client's weekly content, you have received approval, now it's time for you to get PUBLISHING on your client's social networks. Here we will cover some how to's and our best methods for getting it done each day/week/month.
Fair Play Approach
Inspired by Hay There Founder, Emily A. Hay's personal journey to find fairness around the domestic work in her own home in the Fair Play Documentary produced in partnership with Reese Witherspoon's Hello Sunshine, directed by Jennifer Siebel Newsom and based off Eve Rodsky's NY Times Bestselling book, this module will allow you to unlock your potential through a freed-up mental load.
Work life integration doesn't mean having all the things on YOUR plate. Get ready as Educator, Advocate, Coach, Cultural Change Agent and Viral TikTok Sensation, Laura Danger, leads this powerful session in the Hay There Social Media Core Training.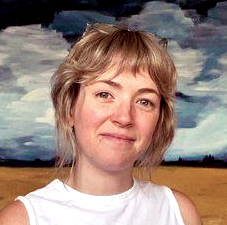 Led by Laura Danger of @thedarnchat
Influencer Campaigns
Learn to pitch, source and manage influencer campaigns for your clients. Effective partnerships with influencers will increase your client's visibility, enhance their reputation and provide valuable third party validation.
On-Boarding Clients
You only get one chance to provide your client with a great on-boarding experience. Here we will teach you how to bring clients on-board so you are both ready to succeed. Everything from delivering an experience consistent with your successful pitch, to surprising and delighting your client, will be covered.
Online Reputation & Review Management
Here's where we teach how to prepare and deliver a reliable customer service process as well as managing online reviews for your clients.
Operations
From relationship management to operational procedures, we cover critical initial
practices to set yourself up for success.
Prospecting
Learn how to identify prospective clients, evaluate their needs and author effective proposals to close new clients using our templates. We also dive in here to share over a decade of experience with managing client relationships to ensure you are renewing current contracts and know best practices for smooth communication.
Social Media Ads
We ensure you can create and manage effective ad campaigns and we go in-depth on how to accurately measure and report results back to your client using industry-leading tools.
Social Media Metrics
You will quickly learn that obtaining an elevated command of the metrics you present proactively and consistency to your clients will eliminate false perceptions, and take emotion out of key decision making. Analyzing key data, presenting the baseline and telling the company's growth story through our software partner, Sprout Social's sophisticated technology will speak volumes about your credibility and capabilities.
Partner of

Web3
Web 2.0 is credited for the birth and rise of social media. As a team of early adopters in digital marketing, we are proud to lead the discussion on what Web3 can mean for social media managers, women and moms in particular. In this module, you will be introduced to the decentralized world of Web3 and will be brought along into the world of NFTs to give you and your potential clients an advantage in this new space.
What happens after I am done with the online social media course?
First of all, congratulations! You are now ready to grow your business! The next phase is immersing yourself in our INsiders community, complete with our exclusive vendor discounts on key business tools. Learn more here!