Familiar with The Golden Circle by Simon Sinek? Keeping our "Why" at the center of all we do is what fuels our work every day. At Hay There, we believe in a new recipe for Work+Life Integration. Read more and let us know if our purpose speaks to you.
WHY: A New Recipe
HOW: The Hay There Way
WHAT: Our Mission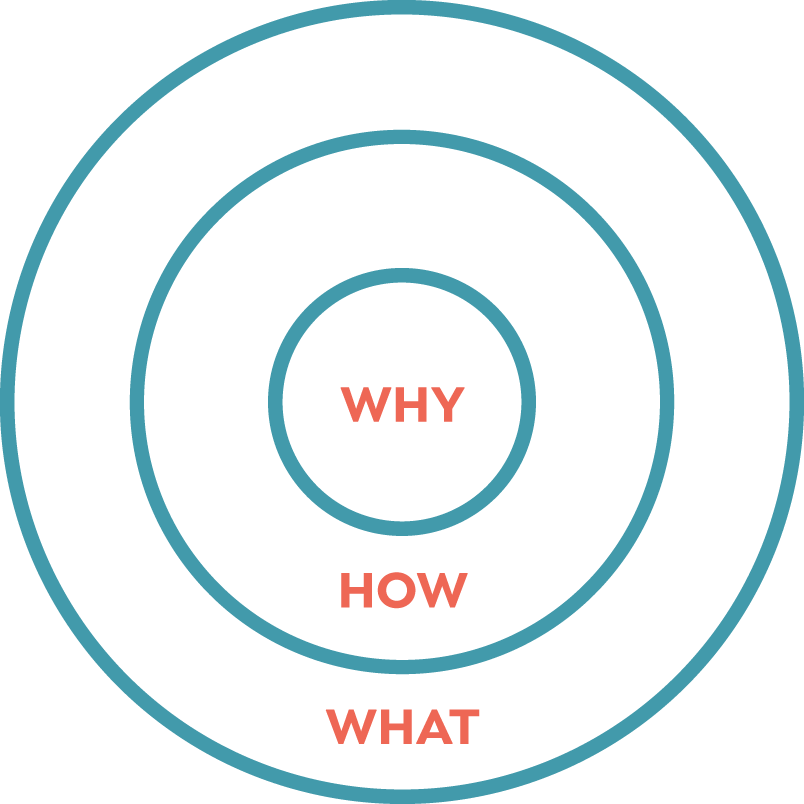 Why We Do It
A New Recipe for Work-Life Integration
Did you know in the 1930s, when the first box cake mixes were introduced to the home baker, they were a flop? Companies went to market with the convenient "just add water" mix. What's not to love? But sales were underwhelming.
Turns out, when the baker could only add water, she felt like she wasn't adding her own effort, talent and creativity to the mix and therefore, was left feeling unfulfilled, disconnected—and even guilty—about the end result.
The answer was to take the dried eggs out of the mix and let the home baker add her own fresh eggs, oil and water to the mix. Adding her own ingredients allowed for the baker to feel a greater sense of fulfillment and contribution to a finished product she could be proud of, and cake mixes started to sell at higher rates.
As you can see, the original boxed cake mix was not selling because of a key ingredient the Pillsburys of the world had not accounted for: The Baker.
Ultimately, the baker dictated the fate of the cake mix.
What it tells us is that we must stop buying into a prepackaged life that uses expired ingredients which leave us feeling unfulfilled, disconnected and even guilty about the end result. We find ourselves asking, "is this it?"
We know you don't have to compromise what is important to you professionally or personally because we have done it ourselves. And you can, too. That's why we are committed to building work-from-home business ideas for women.
At Hay There, we give you a new recipe for work-life Integration. In our recipe for flexible jobs for women, you add your own unique ingredients resulting in a sense of fulfillment and a reclaimed professional identity. Join us today.
How We Do It
The Hay There Way & Our Values
At Hay There Social Media, we encourage praise, accountability, pride and recognition for both performance and good deeds. The Acronym CREDIT encompasses our shared norms and values. Everyone deserves credit, to share it, receive it. So often, mothers do not receive any.
We consider our list of clients and graduates as credits to our company. There are so many messages that resonate and are easily visualized by the use of CREDIT as an easy way to comprehend what we stand for and work towards every day.
Citizenship
Protect and respect others, the environment and the quality of your product. We always go the extra-mile.
Responsibility
Own and be accountable for your behavior, decisions, work, actions and consequences thereof.
Equality
Above all else, operate honestly, fairly, equally and with integrity.
Do no harm
To each other, to the brand you are representing.
Inclusivity
Hay There accepts and celebrates all people, and represents all brands without subjectivity.
Trust
Fostering the above mentioned norms and values will yield a culture of trust and transparency where relationships can truly blossom in the absence of fear or doubt.
What We Do
Delivering a System to Create Flexible Jobs for Women
Our mission is to elevate the work-from-home experience by offering professional women a complete package of resources, connections and skills necessary to get their social media marketing business up and running successfully in a matter of weeks.
Hay There leverages technology, real world social media experience & our supportive community to create flexible jobs for women to channel their professional skill set.
Ultimately, Hay There's goal is to give INsiders access to an ecosystem of information that will eliminate guesswork while you build your new, unique recipe for happiness and fulfillment in your life!
Do you have more questions for us about how you can benefit from our social media services in your unique situation? Get in touch with Hay There today by email or phone 1-877-HAYTHERE.