Working as a freelancer may seem like a lonely endeavor.  However, as Emily A. Hay and Ali Spitzer wrote in Fast Company recently, with the right structure and support, there are many ways that the freelance workforce is actually an ecosystem where freelancers can collaborate and work together.  We Are Rosie and Hay There Social Media provide their communities of freelancers with this kind of support.
Freelance professionals today are not limited to being an isolated "party of one" in a home office.  In fact, freelance professionals can operate like full-time employees whose daily experience is working as part of a greater collective and the layer cake workforce shows how.  In fact, Hay There Social Media's entire upskilling training is built on having a specific skillset that fits into many work configurations and has a community that keeps them collaborating with peers while seeking growth and opportunity.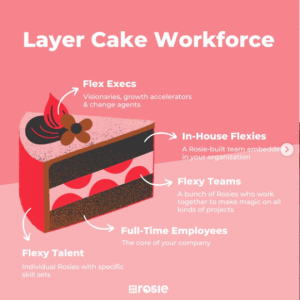 In this video, our founder, Emily A. Hay, speaks with LePra George, the Head of Community and Partnerships at We Are Rosie, about the concept of a "layer cake workforce," what makes it up, how their Rosies fill in each layer of the cake and how Hay There's specialty trained social media professionals serve as the pivotal flex talent that is in high-demand in the future of work.  This layer cake workforce is credited to the marketing team at We Are Rosie.
If you have a limited view of what it means to be a freelance professional, then this video is sure to open your eyes.
Remember, options are empowering.   Give yourself options by learning about how a freelance career could serve you and how freelancers make up the layer cake workforce.
You can read about the collaboration between Hay There and We Are Rosie here and learn more about the unique upskill offering Hay There tailored for Rosies.
Questions about our upskill training for a proven social media skillset?  Contact us or schedule your own call with a member of the Hay There Social Media team today.
Title:
A conversation with We Are Rosie: What is the Layer Cake Workforce?
Mentions:
freelance, hay there social media, layer cake workforce, social media training, the future of work, upskilling, we are rosie
Last Updated:
January 13, 2023