Three (3) 90-minute sessions each month. Training is taught 100% live online via Zoom. Attendees are present for all 3 consecutive sessions.
A Message From...

Hay There, Rosies!
Through our work on the 2021 Rosie Report, we identified a primary way to have success as a freelance professional is to have a specialty. From our conversations with thousands of Rosies, we also know that it is critical to present the right types of resources for our Rosies to be the strongest freelance professionals possible.
When YOU win and find freelance work—we win. We heard you!
So we are thrilled to share that we are rolling out a *first-of-its-kind* upskill opportunity tailored for the We Are Rosie community that will help freelance professionals:
Specialize in one of the top in-demand marketing disciplines—social media
Learn the most relevant knowledge you will need to be able to deliver best in class work as a social media marketing professional
Enhance your current skill set with specialty training that will make it easier to find AND LAND more freelance work opportunities
This opportunity is being offered with our friends at Hay There Social Media.
Since 2009, the dedicated team of experts have been freelance social media marketing specialists and deliver a proven training program to people across the U.S. every day. They are excited to share their inside knowledge on a complex and booming industry to make you more successful.
Now, you can leverage this opportunity to impact *YOUR OWN* bottom line as a freelancer in the We Are Rosie community.
We can't wait for you to take advantage of this enrichment program, because YOU are the reason we do everything we do.
Signed,
The Team at We Are Rosie
A Message from Hay There Social Media
Through our collaboration with We Are Rosie, our mission is to deliver a complete package of thoughtfully curated resources and skills necessary for Rosies to capture and retain clients in need of expert social media support.
We leverage our expertise and reputation so your potential customers feel an unparalleled sense of comfort and confidence from the very first introduction. In other words, if you win, we win. And if one of you wins, we all win. This ecosystem requires excellence from all parties.
Social Media Management is one of the most sought after skill sets by We Are Rosie clients. By investing in this training, you will improve your own *marketability*, and gain the opportunity to cast a wider net. Ultimately, Hay There's goal is to enrich your existing portfolio to include information that will eliminate social media marketing guesswork while you build your client base.
Not only will you acquire the skills necessary to proceed with client work confidently, you will also learn Hay There's proven tactics for strategy, execution, client communication and analytical data to support your progress on their behalf. Hay There leverages technology, real world social media experience & We Are Rosie's supportive community to channel their professional skill set.
This critical training is a mixture of learning, collaboration and practice. Every topic discussed in live sessions, each assignment given for you to complete, will be a piece of the foundation you build to *set yourself apart* from freelancers with no formal social media management training, or an unverifiable background on the subject. Hay There teaches you a complete, proven system using the exact information we use to deliver client work every day.
The Program
This list outlines the six core concepts custom tailored and offered to Rosies, delivered in three (3) 90 minute sessions each month. Training is taught 100% live online via Zoom and attendees are present for all 3 consecutive sessions.
Session 1: Content & Community
Creating effective content and distributing it for impact is core to the work of a social media professional. We'll start with the proper planning work behind every content strategy.
Community management is an essential element to the role of any social media professional. You are the ambassador who builds, grows and manages authentic online communities on social media platforms for your clients. We teach how to prepare and deliver a reliable customer service process as well as social listening, and managing online reviews for your clients. Learn the keys to doing it well.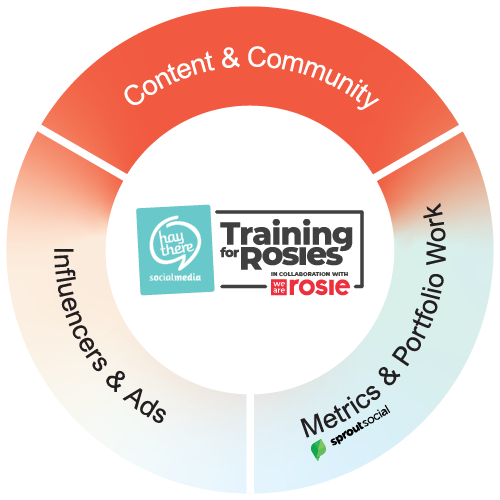 Session 2: Campaigns — Influencers & Ads
Influencer Campaigns
Learn to pitch, source and manage influencer campaigns for your clients. Effective partnerships with influencers will increase your client's visibility, enhance their reputation and provide valuable third party validation.
Social Media Ad Campaigns
We ensure you are familiar with the creation and management of a number of paid social advertising products that make up effective ad campaigns. We will discuss how to accurately measure and report results back to your clients.
Session 3: Credibility — Metrics & Portfolio Work
Social Media Metrics
Learn to analyze key data, present the baseline and telling the company's growth story using industry leading tools to speak volumes about your credibility and capabilities.
A Project Portfolio
We guide you how to put your knowledge to work via a client project portfolio and tout your experience to set yourself apart.
NFT
This Web3 component will serve as proof of program completion*
*Steps required by Rosies individually to obtain
Please join the sessions with a working knowledge of social media and a willingness to share questions, ideas, observations and your perspective.

What's Included in the Hay There Social Media Training for We Are Rosie
Now is the time to lay the foundation for the life you want. Your future self will thank you! Your tuition includes:
Live, interactive training sessions with the Hay There Social Media expert team.
An ecosystem of online content— access to notes and accompanying materials.
Personalized attention from Hay There experts via The Garden Slack
You will have the opportunity to speak with a member of the We Are Rosie TalentX Team
Upon program and portfolio completion, you will be issued an NFT, which you can then add to your We Are Rosie profile as yet another way to 1set yourself apart, above and beyond your competition. Of course, any work you complete will benefit you directly as you share your portfolio with prospective clients. (Don't know what an NFT is? Don't worry! We'll introduce Web3 and how NFTs are a way to get involved in this tech evolution.)
Additionally, you will leave the program with these valuable takeaways:

Perfect delivery of your services—learn HOW to do this work, but just as important is your DELIVERY to your client and their customers.
Learn how to make your clients SHINE
Real life samples throughout the course
Common setbacks and mistakes to avoid from experienced pros
Inside scoop on the very best practices for excellent & lasting client relationships
Learn important nuances of the primary social media platforms
A clear view and explanation of all the moving parts of this multifaceted marketing role.
Skip the learning curve on how to prevent overwhelm by learning expert approaches to organizing and prioritizing the many hats you wear to create efficiencies. Work smarter, not harder!
Testimonials
Hay There Social Media has successfully empowered individuals to be able to enhance their freelance work and be able to build their own flexible business. How do we know our training works? Hear from a few of those we've worked with:
"The training not only taught me the skills I needed to update my resume but it allowed me the ability to get my own clients for my new social media business while juggling my PR freelancing gig."
—Leyla B., Brooklyn, NY
"Emily and her team at Hay There Social Media are amazing! The course offered is comprehensive and it gave me the tools and confidence to work for myself. Work-life integration is possible!"
—Marvelle A., Tampa, FL
Clients are thrilled with the knowledge social media freelancers have received and applied, too!
About the Hay There Team Leadership
Emily A. Hay, Founder
After the early part of her sales career in corporate America, she paved her own way by using social media as her vehicle. Back in 2010 when even large companies were just testing the social media waters, Emily not only had the vanguard idea of starting a company to address the digital marketing needs of small business owners, but she hired a remote, work-from-home team of all women—mothers—who had temporarily sidelined their careers to raise children. For over a decade, Hay There Social Media specialized in delivering cutting edge social media marketing campaigns and strategies for B2C businesses around the country of a variety of sizes.
Following her passions led to her owning her purpose as Emily A. Hay works to help women launch their own social media businesses so they too can live and work flexibly and intentionally in Work+Life Integration Nation.™ As an advocate for professional systems, Emily and her husband shared their journey to find a fair system to run the invisible work in their household in the FAIR PLAY Documentary, produced by Reese Witherspoon's Hello Sunshine, written and directed by Jennifer Siebel Newsom (First Partner of California & Founder of The Representation Project) and based off the NYTimes Bestselling book by Eve Rodsky.