As pandemic life lifts and workforce re-entry is on top of mind, we are excited to help women re-think the way they work and consider new professional paths in digital marketing.
If you have ever wondered what it's like to work for yourself and have an interest in how other women are doing it, be sure to check out our latest collaboration with Together Digital for their Ask & Give Lounge, a weekly virtual discussion.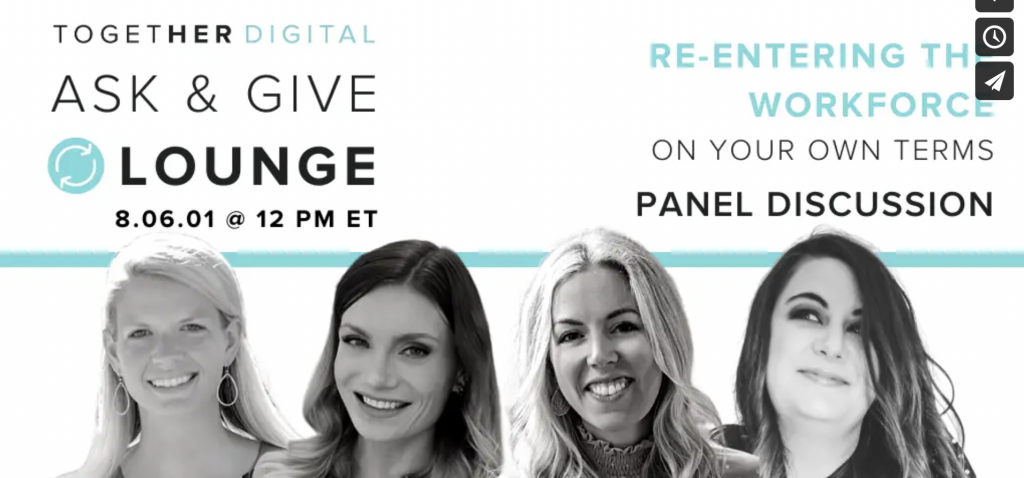 During this panel discussion, our own Emily A. Hay highlights her work to empower moms to run their own social media marketing businesses so they too can live intentionally and work flexibly in what she has dubbed, Work+Life Integration Nation.™
During the session, you will also hear from the following women:
Leah Kwapis, owner and founder of Leah Tackles Social, a social media marketing agency she founded after a career gap and life circumstance that left her struggling as she attempted to re-enter the workplace.
Sallie Pruitt of Pruitt Resources, where she serves as founder and CEO.
Kimberly Hermann, founder of She Rises Social Media, which helps women entrepreneurs grow their businesses through Social Media Management.
Together Digital strives to educate and empower women within digital to be their best selves both professionally and personally.
Learn more and register for future events here.
Title:
Collaboration with Together Digital's Ask & Give Lounge: Re-Entering the Workforce
Mentions:
Collaboration, Panel Discussion, Together Digital
Last Updated:
April 11, 2022