This story originally appeared on ClickOnDetroit.com.
Author:  Sarah Doty, FolkAndFaroStudio.com, @folkandfaro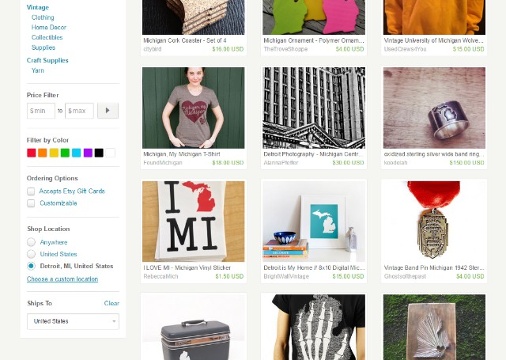 Everyone knows how important shopping local is, right? It impacts your state / city / region by keeping money and jobs in your community. But did you know that you can use the Internet to shop locally?
You can. It's easy. Enter Etsy.
Etsy is an especially awesome resource for holiday shopping. The site provides artists and artisans with a worldwide platform to sell their homemade wares. Now I know what you're thinking. YOU, conscious consumer, are looking for a way to connect with LOCAL makers. Etsy does that too. With literally a world's worth of gifting opportunities, the site has a few key features and filters so you can find just what you need.
How To Shop Local On Etsy – The Shop Local Tool
Etsy's "Shop Local" tool allows you to filter by any geographical location – city, state or country. Enter your region of choice in the search field and Etsy displays goods from the most recently updated shops in your area. A quick "Detroit" search solicited over 30,000+ items. That's a lot of local talent! (You can narrow your search down even further by filtering price, or product.)
Etsy Local
Etsy Local connects buyers with Etsy sellers who are participating in regional fairs and markets. It also links to small retail businesses who stock local goods. This way, buyers can shop from sellers in person, supporting both the Etsy community and their own local economies! (Win, win.) You can search by both location and time frame, so you know what's happening when; and Etsy Local links to the seller's online shop so you can peruse before going to the event. The site is also super mobile device-friendly – great when you're running around doing a little (or a lot, no judgment) of last minute holiday shopping.
There's a Facebook group!
Metro Detroit Etsy bills themselves as a group "for Etsy sellers located in the Metro Detroit area, and those looking for Etsy sellers in the Metro Detroit area." Follow their page for featured artists and recommended shopping. They also organize the occasional local pop-up shop.
What are your favorite local Etsy shops? Share with us in the comments!
Title:
How To Shop Local On Etsy
Mentions:
#local4shopping, Etsy, Shopping Local
Keywords:
How To Shop Local on Etsy
Last Updated:
April 11, 2022