By Deanna Rose
Why you need to stay in the Facebook conversation
The last time you were looking for a new pediatrician or dentist, did you Google one — or did you ask your friends, family and co-workers for a recommendation on Facebook?  When one of your Facebook friends asked for a good local restaurant to try, did you reply with your favorite little Mexican eatery?  Lately, more and more people are turning to their social networks to get recommendations on almost EVERYTHING.
Facebook has become so much more than the chat-with-friends, share-pictures-with-family social media site that it started out as. Now it's also about asking for advice, getting deals, complimenting businesses, complaining about services and handing out recommendations.
Not convinced? Check out these recent stats:
80% of people try new things based on friends' suggestions via social media
74% of people encourage their friends to try new products via social media
72% of people stay more engaged with the brands they like via social media
Businesses now have to have Facebook pages to be able to stay in the conversation — because without a Facebook page to gather personable info from, potential customers will keep looking.  Customers want to see the people behind the business, beyond the basics of a static website.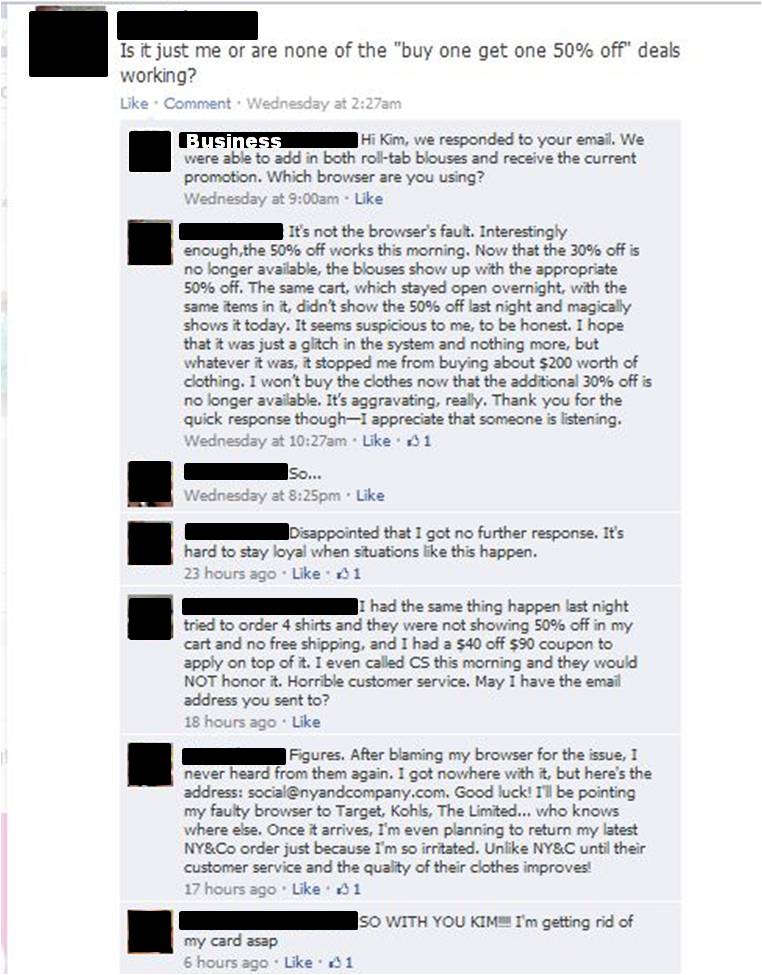 But even more than just having a basic Facebook page, it's important for businesses to maintain that page, engaging with and responding to fans in a consistent and timely manner (especially to any negative comments!).
Take a look at this recent chain of fan posts from a national women's clothing store's Facebook page (on the right):
After posting a simple comment, a customer received one reply from the business but failed to hear back when she continued the conversation.
Then, additional women chimed in: all agreeing that they'd rather take their business elsewhere.  And other people visiting this business' Facebook page were left with the impression that the business just didn't care.
That's not the kind of reputation you want, is it?  Didn't think so.
We know it's time consuming to make sure you're replying to every single comment or question that is posted on your Facebook page, and coming up with intriguing content to keep your fans checking your page — that's what we're here for at Hay There Social Media!  You can focus on your business; we'll just focus on carrying on the conversation.
How long have you waited to hear back on a comment you left on a business' Facebook page?  As a business owner, do you put a priority on answering customer questions on your Facebook business page?
Title:
How to Get Fans Talking on Your Facebook Business Page
Mentions:
deal with customer complaint social media, deanna rose, facebook, Facebook app, hay there social media
Last Updated:
April 11, 2022