Hay There INsiders Lead a Social Media Workshop for Fair Play Method Certified Facilitators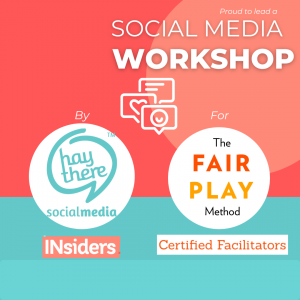 Since inception, Hay There Social Media has been dedicated to providing women with a proven road map to achieve professional success through not only our core training program, but also, through access to professional development opportunities and prospective clients as a part of the Hay There INsiders community.  Essentially, Hay There "connects the dots," so INsiders (graduates of our training program) and businesses alike can leapfrog traditional challenges and timelines when searching for a better way to access clients and social media managers, respectively.
One of the ways INsiders bring value to business owners is by delivering workshops.  Hay There Social Media recently led a virtual workshop for an audience that is near and dear to our hearts: Fair Play Facilitators.  This amazing networking event with attendees across the U.S. empowered INsiders to take the floor and present their expertise to a group of businesses.  Facilitators are therapists, coaches and leaders with expertise on the fair division of labor who have completed the official training by Fair Play Life, a program that is based off Eve Rodsky's NY Times Bestselling book, Fair Play.
As a subject of the recently released documentary, "FAIR PLAY," produced by Reese Withespoon's Hello Sunshine, written and directed by Jennifer Siebel Newsom, First Partner of California and Founder of The Representation Project, and airing on Hulu, Amazon Prime, Apple TV+ and more, Hay There Social Media CEO, Emily A. Hay,  personally experienced the Fair Play approach to building a true system for work + life integration.
With that fundamental understanding, it was a natural fit for certified Fair Play Facilitators, led by Mary Beth Ferrante, Training Director at Fair Play Life and Founder of WRK/360 to leverage  Hay There's support as they press forward in growing their customer base through social media engagement.  This particular collaboration proved we are strong together and mutually beneficial connections happen on the daily here.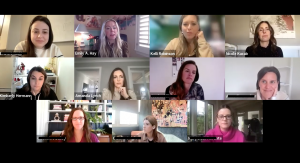 How Coaches, Therapists and Speakers Can Hire a Social Media Manager
Fair Play Facilitators struggle with a universal challenge any growing business faces: Now that you have perfected your product or service offering, how do you find someone to hire as a social media manager to grow your business? How do you know if this is the right investment? What will the cost be? Is there someone already on your team who can do the work? Does your business have enough content, and how will a stranger capture the essence of your work?
Hay There offered an informative presentation exploring these questions in order to set these small business owners up for success by hearing from a team of expertly trained freelance social media managers.  Furthermore, this session addressed important factors to make the most of everyone's effort and investment.
Like Fair Play Facilitators, Hay There INsiders are from around the country. They have backgrounds in sales, PR, business development, customer service and more. The INsiders introduced their experiences, special work affinities, and guided the facilitators on their exploration of hiring a social media manager. Emily was joined by INsiders Kelli Robinson, Amanda Lynch, Kimberly Hermann, and Nicole Kucab who asked many exploratory questions surrounding where Fair Play Facilitators currently are on their journey.
They asked what they are doing now for their brands, strategy, what networks they currently prefer, how they are managing their communities and content distribution as well as key metrics that matter most to them. From there, they had a great discussion surrounding how social media manager engagement can work based on their needs and comfort level: whether it is a comprehensive scope of work, or an a la carte approach.
INsiders said "Help me help you!" by offering advice on how to make the most of a social media manager, effective management style techniques, and how to realistically anticipate and prioritize their involvement on a day to day basis with their social media manager. Content strategy, weekly content reviews with clear expectations and candid conversation is critical to understanding the Facilitators point of view for clear and cohesive messaging.
Advice for Business Owners From Social Media Managers
Nicole Kucab shared a strategy example of one of her clients, an author selling at local bookstores. Nicole is doing individual posts mentioning the stores specifically, and why those shops are meaningful for a higher chance of the shop resharing their posts and increasing her clients visibility.
Kimberly Hermann expanded the conversation by adding what facilitators can do to make social media manager's work even better. Being very clear with what kind of business you are looking to drive more of can help a potential social media manager spend their time much more productively.
Amanda Lynch mentioned how she brings focus to a current client of hers that has many objectives and how she carefully considered the promotional of geographically based events on social media.  .
Kelli Robinson, a social media professional, a mentor to fellow INsiders and a leader in the Hay There Team, highlighted best practices such as a project management tool and how to decipher numbers, the importance of establishing a baseline, controlling the urge to micromanage, staying on deadline and the discipline of repetition.
Here are a few comments Facilitators shared about the session:
"Thanks so much for this talk!  It was really helpful!"
"I loved the replay — honestly couldn't wait to learn more!""
"You all did a fantastic job!"
We are so proud of Kelli, Amanda, Nicole and Kimberly for putting forth a thorough and thoughtful presentation that truly gave Fair Play facilitators an accurate and comprehensive view of what a successful relationship between a social media manager and client can look like.
Congratulations to our amazing INsiders for a job well done! Mary Beth said, "Thank you, Emily for a wonderful session today!!!"
Interested in learning more about joining the Hay There community?  Contact us today — or schedule a call at your convenience — we're here to help!
Title:
Workshop for Fair Play Certified Facilitators
Mentions:
fair play, fair play facilitators, fair play life, social media workshop, Work Life Integration
Last Updated:
December 28, 2022